Nightcry is a game set in Allvale: a land mass containing the nations of Agias, Olmea, and Majanoor (though southern Majanoor is technically not part of the Allvale region). Rather, it used to contain those three nations when the Old King Omas lived. When the Invincible King slew him and took Agias for himself he conquered Olmea shortly thereafter and Majanoor in the following year, uniting the three nations under the banner of his empire.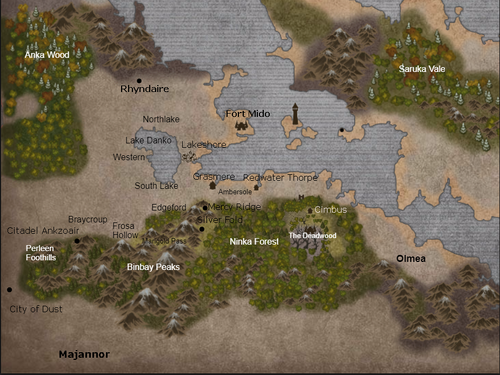 Lakeshore: A massive city that sprawls between the ocean and Lake Danko.
Cimbus: A tiny town that was once under the mental control of Martin Shaw.
The Deadwood: A petrified forest near Cimbus.
Redwater Thorpe: A port city famous for red algae blooms.
Grasmere: Inlet port town with a failing economy thanks to the loss of Olmean trade tariffs.
Northlake: The ancestral home of House Whitethorn.
Southlake: A town controlled by House Ravenoak famous for it's ancient Cathedral.
Lakeside: A small halfling community built on the north of Lakeshore
Rhyndare: The capital of Agias, home to many noble houses and major merchant houses
Fort Mido: The center of the Agian military complex.
The City of Dust: The home to the Ivory Tower enclave in Majanoor
The City of Rice: A small rice farming town in Majanoor where the old King's nephew was hidden.
Bel
Bryndali
Chanquin
Faja
Julian
Maisy "the Dark" Finefeather
_______________________________________________
Non-adventuring allies